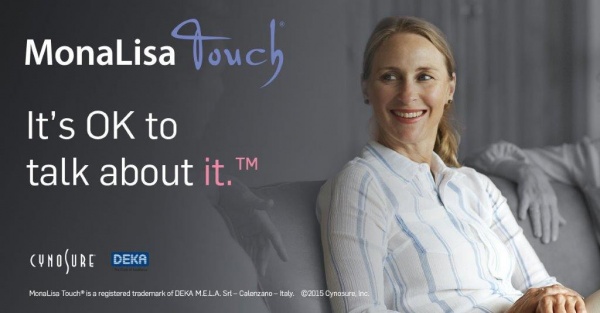 Issues of gynecologic health are commonly seen in post-menopausal women, breast cancer survivors and women who have had a hysterectomy. These changes in a woman's health can affect a woman's quality of life in unexpected ways. Now, there is a laser therapy that can help millions of women who are silently suffering.
The MonaLisa Touch is an innovative laser procedure, designed and produced by DEKA. It delivers fractional C02 laser energy to the vaginal wall tissue. The procedure is performed in an office environment without the need for anesthesia and with virtually no pain or side effects.
The MonaLisa Touch uses gentle laser energy that is delivered via a side-firing probe into the vaginal canal. It helps restore vaginal health by generating new collagen, elastin and vascularization.
Patients receive three treatments in an office setting, spaced 6 weeks apart. Each treatment takes just minutes to perform. Returning for yearly maintenance treatment is recommended. Your physician will determine if follow up treatments are required.
Please leave your information if you would like to be contacted regarding the MonaLisa Touch Therapy.
Greenbrier Obstetrics & Gynecology PC
Average rating:
3 reviews
Aug 25, 2016
"To find out that there was actually a laser that in 3 treatments could possibly provide me with what I hadn't been getting in the last 10 years of trying. I was ecstatic. I think having the procedure helps me to feel like I can be in touch with just being a woman again.  It can really affect your self-confidence, your self-esteem. And so I think that was a plus that I wasn't really considering, that happened."
Aug 25, 2016
"It really wasn't until I realized that this was my body that was having the reaction due to menopause. I noticed a difference after my first procedure and then going back for the second there was a huge difference. Between the second and third treatment, a total opening, a softening, receptivity, sensitivity, that I haven't had for years and years. Probably what MonaLisa Touch gave back to me, it gave me back confidence and made me want to date again. It made me feel like I can have a full relationship. I feel like I don't have to hold back any more. I can just bring everything that I have back to the table, because I was holding back before and now I don't have to."
Aug 25, 2016
"When I underwent the MonaLisa Touch procedure I was a little nervous and after the procedure, I came out almost bouncing off the wall, saying I cannot believe, there is no discomfort, such a short time commitment. I first began to see results from the MonaLisa Touch Procedure approximately 2 weeks after the initial procedure."